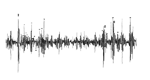 THE FILMCOMPOSER...
- is an interpreter but also an instrument per se
The director's idea and narrative must be translated in the musical language to reinforce and accentuate moods in the motion pictures.
At the same time, the film composer has to be a versatile instrument, the instructor can play on - just through his instructions on the idea, history and moods of the work piece - so music, sound and images can melt together in exactly that expression, the film should have.
I have through 15 years composed music for feature films, short films, advertising and theater. This website presents in sound and pictures a selection of my compositions.